In order to chaperone a field trip, volunteer in your child's classroom, help in the library, or volunteer at a school event, you must complete a Volunteer Background Check EACH YEAR. Once you have completed the application, it will take two to three weeks to be approved. Complete the GCISD Volunteer Background Check here.
Once you are approved to volunteer, we hope that you will consider helping out in some capacity. We have many opportunities to volunteer, whether it be providing treats for the teachers, providing auction items for the Fall Ball Auction, working a booth at the Fall Ball, or helping out at Field Day, all sign-ups are done through SignUpGenius.  If you have not already done so, please take a moment to go to the SignUpGenius website and create an account. It is so easy! Just enter your name, email and a password. Once you've created a SignUpGenius account, you can click on the individual sign ups below to volunteer!
Field Day Concessions
As part of our fundraising efforts to fund the fifth grade field trip as well as experiences for other grade levels, we are hoping to have all concessions donated. If everything is donated, all funds raised in the sale of concessions will be able to go towards experiences for our children.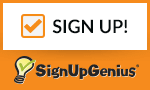 Field Day Volunteers
It takes a LOT of volunteers to make Field Day a success! Thank you so much for spending just ONE HOUR out of field day to make it successful for all of the students. I know your student will be proud to see you helping, and we all certainly appreciate it! Please note that this year the schedule is a bit different. K-2 will be participating in events from 8:30-11:30 and 3-5 will be participating from 11:30-2:30. If you would like to volunteer during your child's scheduled concession/lunch time, that is noted on the schedule.